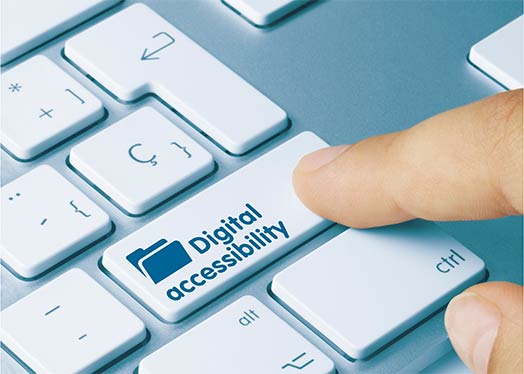 At epubsupport, we are committed to digital accessibility for all individuals, including those with limited abilities. It is essential for promoting inclusivity, complying with legal requirements, and providing equal access to information and services for everyone.
Our Commitment:
Inclusive Design: We prioritize inclusive design principles in all our digital endeavours, striving to create an accessible and welcoming online environment for all users.
Standards Compliance: We adhere to international accessibility standards, such as the Web Content Accessibility Guidelines (WCAG) 2.1, AA and PDF/UA to ensure our digital offerings are accessible to a broad audience.
User-Centric Approach: We actively engage with users of all abilities, conduct usability testing, and value feedback to identify and address accessibility challenges.
Continuous Improvement: We view digital accessibility as an ongoing journey, committed to ongoing improvement and staying current with accessibility advancements.
Training and Awareness: Our team is trained in accessibility best practices, fostering a culture of awareness and collaboration.
Feedback and Accountability: We encourage feedback and are accountable for swiftly addressing accessibility concerns. Contact us to report issues or share insights.
Third-Party Partnerships: We collaborate with third-party partners who share our accessibility commitment, ensuring consistency across our digital ecosystem.
Policy Review: Our accessibility policies and practices are regularly reviewed and updated to align with industry standards and legal requirements.
Legal Compliance: We are dedicated to complying with all relevant accessibility laws, including the Accessibility of Ontarians with Disabilities Act (AODA), Americans with Disabilities Act (ADA) and Section 508 of the Rehabilitation Act.
By upholding this commitment, epubsupport endeavours to foster a digital landscape where all individuals can engage, interact, and access information independently. Accessibility is not just a legal obligation; it is a fundamental value we hold dear.
epubsupport proudly embraces the journey toward digital inclusivity and invites our users and stakeholders to join us in making the digital realm accessible to all.
Click here to view our 'Mission Statement'.
Click here to view our 'Digital Accessibility Commitment Statement'.